These unique Get Up and Go diaries represent a philosophy that works! We choose quotes containing great words, spoken by great people, to continue to inspire and motivate our readers to 'get up and go' in life and cause the results that hopefully we all want to see in the world. We choose words of reflection, encouragement, peace, generosity, cooperation, acceptance, forgiveness and love. Words are powerful tools. We can all harness the power of these words. Consider the words we use to speak (silently) to ourselves are the most important words of all. We recommend using these diaries as a 'personal empowerment tool' and to become aware of how our thoughts and words can create the experiences of our lives. When we use our words powerfully we can cause amazing results in the world. 
We say Forgive the past – let it go; This is one of the most impactful things you can do in your life. Do not dwell in the regrets or resentments of the past. Do not let the past stop you from being who you want to be, and can be, now. We say Live the present – there is only now. This is where your power is, in the present moment. What you do now is what matters. We say Create the future – the future you want. Thoughts really do become things, when you speak them and act on them. Use your thoughts, use your words, to inspire, motivate and empower yourself, and others, to take the actions to design and build the life of your dreams. We do

Recently retired from thirty-two years as a Medical Doctor, working in the front line of acute hospital medicine, Eileen is now working full time with Get Up and Go Publications Ltd. A keen advocate of ongoing personal growth and development as access to emotional well being and physical health, she encourages everyone to discover for themselves the access to living life with power, freedom, self expression and peace of mind. Having overcome a 'stammer' that plagued most of her life, Eileen now proudly and enthusiastically uses her voice to encourage, inspire and motivate others to Shine their Light in the world. Her intention is that 'all people know themselves as whole and complete, at the source of their own wellbeing and happiness, living at choice in freedom and peace and present to their unique contribution to the world'.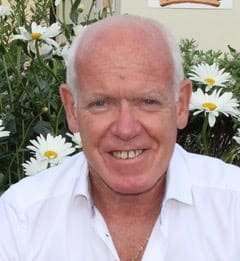 Brendan Sands, from Newry, Co. Down, worked in the Construction Industry for 30 years until he joined Get Up and Go Publications Ltd in 2008, as a Director. As a parent and grandfather, Brendan's passions are health, well-being and fun. Brendan has a constant reminder of the value of good health, being personally acquainted with the challenges of Cystic Fibrosis in his own family. Observing the effort required simply to breathe on a daily basis, reminds him of what we all take for granted, i.e., our health, and how sometimes we can be careless with what comes too easily to us. Brendan lives the philosophy of Get Up and Go every day, he is a keen cyclist and hill-walker, and loves to eat the garden produce he grows himself. Brendan really enjoys one-on-one conversations with his many customers throughout Ireland and is committed to excellent customer service.
The Story Behind the Success of Get Up and Go
The Irish Get Up and Go Diary began life as The Irish Survivors Diary in 2001 by Glenda Devlin who came to Ireland from South Africa in 1999 to start a new life with her husband Tommy. Unfortunately, Tommy was diagnosed with a devastating illness which led to his untimely death in 2004. To help her during his illness, Glenda had created The Irish Survivors Diary, the fundamental message being "It is not our circumstances that differentiate us, but our attitude to those circumstances". In 2006, Eileen, who had used the Irish Survivors Diary to support her through a challenging time in her own life, was fundraising for Cambodia in support of a small NGO school for poor and orphan children, approached Glenda for a donation. Instantly recognizing the others' commitment to empowering people, and to ensure the survival of the diary, they embarked on reviving the ailing business. The name was changed to 'The Irish Get Up and Go Diary' to reflect more accurately the new positive energy in the partnership. The Diary's transformation to the unique, beautiful and colourful diary, now so loved by so many, had begun. Brendan joined the company in 2008 bringing even more energy and enthusiasm. An appearance on Dragon's Den in 2011, while not securing an investor, spurred the Company on even more, to be 'one of the ones that got away!' 
The popularity of the diaries continues to increase steadily and new products are added by popular demand to provide for different customer segments. Get Up and Go Publications Ltd now supplies diaries and journals throughout Ireland through major distributors and independent retail outlets. Also, through our on-line shop, we send diaries and journals to 'the four corners' of the world. A visit to Entrepreneurs Institute Resort in Bali in 2013 provided an opportunity to connect with the work of Roger Hamilton / Wealth Dynamics, and the subsequent launch of the Genius Journal at his Fast Forward Your Business 2016 Global Tour in London. Support and mentorship from Going for Growth in Ireland, empowering female entrepreneurship,  also contributed to our ongoing success. While Glenda departed the company in June 2016, Eileen, Brendan and the rest of The Get Up and Go Team continue to be committed to providing an excellent customer experience, with ongoing growth and development of the company, producing excellent quality products and events that make a positive difference in peoples lives. 
We continue to seek out partnerships and collaborations with 'get up and go' people in the world of education, entrepreneurship and health and wellbeing, with the intention of growing a 'get up and go' community that is inspired, motivated and committed to shining a light on, and finding solutions for, the worlds' most most pressing problems.